Imagine this: It's a cold and dark Monday morning. You sluggishly enter your office at work, dreading the upgrade to the pathology software your team implemented several years ago. With years of experience now under your belt implementing, using, and troubleshooting this fancy software, you start to get that gut-wrenching sensation because your "upgrades" in the past have been more like downgrades. Plus, all your department's custom made workflows, templates, and other shortcuts will need to be re-written.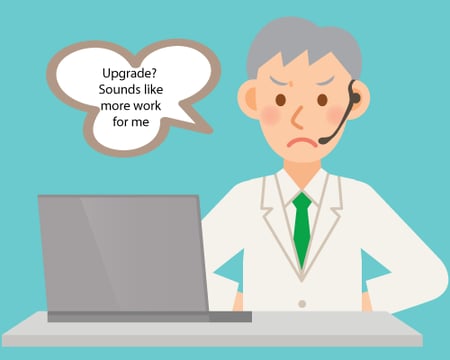 Yes, it's true that you are fully capable of implementing speech recognition or upgrading your AP system on your own, and you can do it successfully. That's where the fun ends, however, because now you have to constantly know how to fix every issue that is bound to arise. Whether it is the software or the hardware, it is up to you to resolve.
This was exactly the case for the medical director of pathology at one of our 400+ sites. As he recalled, "The problems were rare, but when they happened, it took a lot of time. Is it the battery in the headset? Is it the soundcard, or is it nothing related to any of those? Troubleshooting was the main problem before."
His pathology department was highly automated, but he supported it all himself. Any time one of those rare problems cropped up, he had to take time out of his day to fix it.
These are the headaches we want to help you avoid. Our team has pathology DNA in its blood, so we know the intricacies of pathology reporting and Anatomic Pathology (AP) systems. To date, we have not come across one AP system that we weren't able to integrate with. For this Medical Director of Pathology, our expert team took his customized workflows from the previous system, adapted them for his needs, and put our support behind him.
Sure, he could have done it all himself, but he didn't have to.
Voicebrook's Support Resources enable all of our clients to stay focused on their number one priority: patient care. Care for your patients knowing that Voicebrook has your back, should any reporting issues come up.
Contact us to learn how our expert support can work in your lab.
P.S. This blog was entirely dictated using VoiceOver speech recognition software.