Perception vs. Reality:
As the Director of Client Operations, I know this is probably the wrong thing to say, but I HATE CALLING SUPPORT! When my internet is having an issue, I will usually spend at least an hour trying to fix the problem myself before I pick up the phone and call the provider. I have this perception that I am going to be on hold forever, the person who answers will probably not know how to fix my problem, and in the end I will just be frustrated. In reality, most of the time when I do call, I get my issue resolved much faster than I thought.
Do I listen to voice prompts? Yes

Do I have to hold for an agent? Yes

Does it take time for the agent to understand the issue? Yes
But,
Is my problem fixed in less time than had I tried by myself? Yes
I know it's hypocritical of me, as I am always telling our clients "When you have an issue, call support", but I'm only human, right? I know the reality is that support centers are there for a reason…to solve customer issues. They are specifically trained to solve problems with their product. Yet for some reason, most people have the perception that calling support is a hassle and tend not to call.
The Problem:
In my role at Voicebrook I am on the other side of these interactions, and I have found that despite my encouragement many of our clients don't like to call support. While I understand why I have been reluctant in similar situations, I needed to reach out to our clients and hear their take on our support, and this is what I heard…

"I love your support team. They are great to work with."

"I love working with so and so because he is familiar with my account."

"Whenever I call it takes forever to get someone on the phone."

"Once I get on the phone with someone, we will be on for at least an hour."
These types of comments were very telling. It was clear that we had some really great people, but we had an average process that wasn't meeting customer expectations. I began communicating these concerns internally and found that I was not the only person who had heard these things. We needed to make some changes.
Voicebrook has always been proud of our personal level of customer service, and our staff has always been eager to try and resolve every issue immediately. That said, responding to every call in the order it was received was not an efficient way to manage critical issues and to keep average call time for each of our clients down to a minimum. We decided that it was time to find a better way. The goal was to reduce hold and overall call times, while increasing the number of resolved problems and overall satisfaction.
We formed a Client Experience Team composed of 5 individuals from different areas of the company with different backgrounds in customer service. We started researching the issues, gathered and evaluated our call data, and pooled our experiences. The intent was to build a picture of where the process was breaking down and identify specific bottlenecks. Once these were identified, we attended presentations to learn what other support centers were doing and used our old friend 'Google' to figure out some comparable industry best practices.
The Solution:
What we found is that a process that incorporated triaging would most successfully address the issues that we had seen. It's just like when you go to the Emergency Room. Everyone in the ER feels like their issue is serious (why else would they be there), but there are different degrees of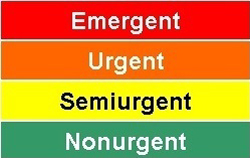 injuries and illness and levels of effort necessary to treat each patient. There are also different types of doctors with different specialties who are better at treating some issues than others. We realized that a similar process could serve to maximize the consistency and outcomes of our customer interactions. In the ER that is the role of the triage nurse. At Voicebrook this is now done by the Response Team who answers your initial call. The team gathers important information from each caller in order to help lower the average call resolution time, and address the most critical issues in the timeliest manner.
Consider this example -- under our old process someone calling for a quote for a microphone would get immediate assistance, but we could have someone waiting on hold whose screen was frozen, preventing them from getting work done. With our new process, the Response Team will collect information from the caller requesting a quote for a microphone, and forward it to our client services team to provide a response in a timely manner. The Response Team will triage the next caller whose screen is frozen and get the first available client services representative on the phone. The end result is that each of our customers has a lower average wait and call time, and knowledge that when they need to get something fixed immediately that it will be done.
In addition, the new process is not intended to prevent immediate client issue resolution. Based on the information collected, that Response Team may be able to provide quick troubleshooting tips. If those quick fixes don't work the issue is then prioritized based on urgency and complexity. Depending on the severity of your issue, an agent will either get on the phone with you immediately, or you may be told that someone will give you a call back within a specific timeframe.
If you are on the scheduled call back list, rest assured, this is also for your benefit. While you are waiting for your call back, it does not mean that work is not being performed on your issue. Our team will now research your issue, your implementation record, and possible solutions. The ticket will then be assigned to the most appropriate agent for the given issue. When the agent calls you back you should have a very efficient phone call in which the agent connects and fixes your problem because the research is already done. The goal – to solve issues more quickly, but also to prevent you from having to wait on the phone with us while we determine what is causing your problem.

The Conclusion:
The next time you are faced with the question "To Call or Not to Call" I recommend calling and giving our new process a try. But if you really don't have the time, remember, you can always email us at support@voicebrook.com. When this is done a ticket is immediately created and you will receive a response email with that ticket number. The email is assessed in much the same way and an agent will be in touch with you to schedule time to work on your issue. Remember, at the end of the day, we are only successful if you are.