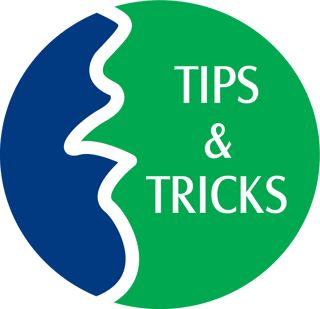 At least once per quarter, we like to offer our clients some tips for a better user experience. In the past, we've covered topics like creating templates, customizing foot pedal settings, word correction, and going hands free. This time, we have a few tips on a range of subjects that will help you with VoiceOver and keep you ready to tackle cases for the coming months.
Mic check 1, 2…
Good audio quality starts with the microphone. If you are having trouble with your recognition, there are two easy steps you can take: run the Audio Set-up Wizard or optimize your sound properties in Windows.
Audio Set-up Wizard:
The main cause of recognition trouble is a microphone that is not calibrated properly. That's why the first thing we will recommend you do is run the Audio Set-up Wizard. It's also a good idea to run the wizard any time you change your settings, your hardware (headset, mic, etc), or your physical environment.
On the VoiceOver toolbar, click on Tools – Audio Set-up Wizard
Select the microphone that is installed for your workstation and click next
Follow the Audio Set-up Wizard and complete the instructions displayed on the screen
For more detailed instructions, please visit the Voicebrook Success Community, where you can find screenshots and a step-by-step guide to running the Audio Set-up Wizard
Sound Properties:
If your volume is not set to max on your microphone, you may find yourself raising the volume of your voice as you dictate. No one likes shouting for hours at a time, so let's dive into your settings.
Navigate to Control Panel – Sound – Recording
Select the microphone that is setup for your workstation
Click on Properties – located on the bottom right
Within the microphone properties, click on the Levels tab
Make sure the headset microphone is set to 100
After you successfully change your settings, remember to go back and run the Audio Set-up Wizard again.
"It Keeps Going, and Going, and Going"
Speaking of microphones, if you use a wireless mic in the gross room, you will need reliable batteries that keep going and going. We offer rechargeable batteries that can be used and reused hundreds of times before needing replacing. If your batteries are not keeping a charge, you can read our tips in the Success Community.
The Power of Habit for Your Workflow
Humans are wired to work in habit loops; they allow us to perform routine tasks with little effort from our brain. Sometimes, though, our routine changes and new habits are formed. When this happens, it's easy to forget or overlook some steps from the previous routine.
For speech recognition users, it's important to review the steps of the workflow from time to time to make sure no bad habits have developed. If you need a copy of your site's VoiceOver workflow documentation, contact our support team.
We've Got Your Back
We want to make sure you have the best experience with your reporting solution. If you ever need help, whether it's troubleshooting, workflow questions, or new hardware such as headsets, microphones, or foot pedals, you can contact our support team. You can also check out our Success Community where get help from Voicebrook staff as well as other pathology professionals.