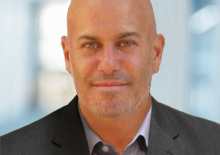 I am pleased to announce Voicebrook's new blog. Through this platform, the Voicebrook team will share our collective experience and knowledge to better empower our pathology clients and prospects to save time, money, and lives.
Why are we doing this? To help our clients save time, money, and lives. In order to best explain, I need to go back a year and discuss the transformation that has taken place at Voicebrook.
Over the past five years Voicebrook has experienced tremendous growth while becoming the leader in Pathology speech recognition and reporting solutions. In order to better manage this growth and bring our customers the same level of attention to detail that we have become known for, we implemented a new management process this past year, known as Rhythm . Rhythm allows us to manage larger teams and priorities and align ourselves to better serve our customers. It has been an invaluable process for focusing our organization on the highest priorities and making sure that strategic decisions are communicated and implemented in every layer of our organization.
As part of this process, one of our priorities was to improve our understanding of our brand so that our team can provide our customers with the outcomes they have always expected from our solutions. In looking at this we found that many people associate us with the technologies, features, or services that we provide, and often lost sight of these outcomes when comparing us to companies that provide some of the technologies that we use.

Our software and its features combined with our people are the tools that we use to deliver our customers beneficial outcomes, but individually they are not our solution. The parts cannot be separated from the whole, much like a car can't take you to your destination without wheels. A car with a great stereo that doesn't drive is not delivering on its promise. Just the same, a speech recognition tool that can't be used to navigate an AP/LIS system can't accomplish its goals.
As a result, we embarked on a deep dive aimed at better understanding how our customers benefit from our solutions in order to align our teams on providing the right outcomes. The end result was the realization that "our solutions empower your words to save time, money, and lives."
Saving time and money are obvious benefits that people expect from our solutions. The majority of our clients cite reduced turnaround time, improvement in staff productivity, and a reduction in expenses associated with traditional transcription processes as the reasons for selecting us.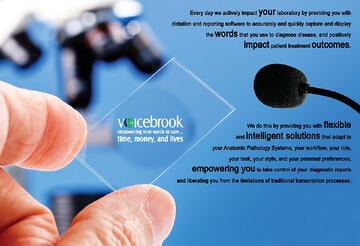 That said, there was a lot of internal debate regarding how our solutions impacted lives. Once people understood that our role is to "empower the pathologist's words" to help them save lives, it all made sense. By increasing the speed of patient care and reducing potential negative outcomes resulting from errors associated with traditional transcription processes, we do in fact empower pathology professionals to provide a better quality report which in turn helps them save lives.
So that is the story behind our new branding message, and our blog is a new resource to help assist our clients in achieving these positive outcomes. Our entire team at Voicebrook will be contributing to this blog, so please check in regularly to hear words of wisdom, tips, tricks, advice, and ideas from your favorite Voicebrook team members. We will be migrating to a new web platform in the New Year that will allow you to subscribe, search, and comment, so please look for that as well. Thanks, and enjoy!