As we approach the final hours of 2015, I can't help but reflect on what an awesome year it has been and how thankful I am to work with such great coworkers and clients. In the spirit of reflection and ushering out the past year, I want to share some 2015 blog statistics and also thank two very special people (one a coworker and one a client) whose commitment to high-quality Pathology reporting impacts patient safety and positive outcomes on a daily basis.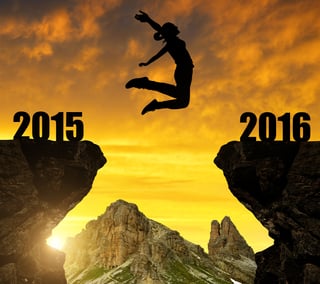 One of my favorite memories from this past year was our implementation of Hubspot, which included this blog. This platform allows us to share our thoughts and connect with people committed to the rapid and accurate diagnosis of disease. It has been a fun and rewarding experience, and I look forward to continuing for years to come. With that, I wanted to share some statistics from our first full year writing this blog.
The Numbers - 2015
56 - The number of blog posts made in our first full calendar year
24 - The number of Voicebrook employee authors
4564 - The number of blog views
183 - The most views on any blog post: Speech Recognition Is Not A Cost-Effective Solution for Pathology
44 - Active blog subscribers added this year
This is just the beginning for our blog, and we anticipate much more activity and collaboration in 2016. Please let us know what topics and ideas you want us to discuss and ask your friends and coworkers to subscribe.
The Coworker
We have so many great coworkers at Voicebrook and I would be remiss not to thank them all for what they do. With that said, I want to point out one special person who brought so much to the table in 2015 and has since his arrival in September of 2009.
Filipe "Fil" Carreira is the Senior VP of Operations at Voicebrook, and he has worn many different hats since becoming a part of the team. He currently oversees Operations at Voicebrook which includes our Product Research and Development, Technology Operations, Client Operations, and Solution Delivery teams. In his time here he has rapidly impacted what we do and how we do it for our clients and our coworkers. He is someone who is equally competent and passionate about technology, people, process, organization, and ideas. He is the personification of our company core values of:
work/life balance

personal interaction without geographical boundaries

Integrity, Fairness, Adaptability, Transparency and Reliability

commitment to the success of our customers and our coworkers

dedication to continual improvement
I just want to thank Felipe for his many contributions and let him know that what he does for our clients and coworkers is appreciated by everyone. Most of all, I think it is safe to say on behalf of everyone that we appreciate his friendship.
The Client
There must have been something in the air in the middle of 2009. Like Fil, Dr. Robert Babkowski, the Chairman of the Stamford Pathology Group, first became part of the Voicebrook family in October of 2009 when he helped Stamford acquire our VoiceOver platform. All anyone needs to do is spend a few minutes with Dr. Babkowski to realize that he is very passionate and spirited about pathology and patient care. He is uncompromising when it comes to his role in diagnosing patient disease and providing the best possible outcomes for his patients.
At Voicebrook we recognize that change is not always easy and it takes a strong and committed leader to get the best results with any technology implementation. Dr. Babkowski has always been this type of vocal leader and advocate for the solutions that we deliver and he has demonstrated appreciation for our shared mission to help pathologists like him save time, money, and lives. We would like to recognize him for his unwavering support and the positive benefits that many of our clients are seeing due to his advocacy of our role in helping pathologists create the highest quality diagnostic reports.
The New Year
I'm looking forward to building on our great relationships as we move into 2016. Even as we welcome new clients and coworkers, we remain committed to our constant efforts to help empower the world of pathology to save time, money and lives in the new year. This is an exciting time for us, and I am so thankful for everyone who has joined us on our journey.
Happy New Year!