I was listening to a radio interview with a cast member from the upcoming "Star Wars: The Force Awakens," and I immediately thought of the iconic phrase, "these aren't the droids you're looking for." I have always loved memes and the classic Star Wars movies. Considering the timing of the new release, I had a sudden urge to write a blog that applies the meme to laboratories looking for new Pathology transcriptionists.
For those who are not familiar with the phrase, it is a line from the 1977 movie, Star Wars, spoken by Obi-Wan/Ben Kenobi after being stopped by Stormtroopers when traveling into the city of Mos Eisley in search of Han Solo. It has since become a pop culture meme. Here is the brief exchange...
Stormtrooper: Let me see your identification.
Ben Obi-Wan Kenobi: [with a small wave of his hand] You don't need to see his identification.
Stormtrooper: We don't need to see his identification.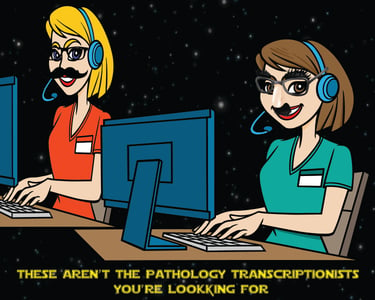 Ben Obi-Wan Kenobi: These aren't the droids you're looking for.
Stormtrooper: These aren't the droids we're looking for.
Ben Obi-Wan Kenobi: He can go about his business.
Stormtrooper: You can go about your business.
Ben Obi-Wan Kenobi: Move along.
Stormtrooper: Move along... move along.
So what the heck does any of this have to do with pathology or transcription? Well, it is widely known that the availability of talented medical transcriptionists is a problem that is predicted to worsen in the future. As one medical transcription job posting website put it, "Everyone agrees we're about to hit a crisis point. Over half of the MTs are approaching retirement."
In addition, we often speak with pathologists and administrators who cite issues with existing transcriptionists that include: sick days, accuracy, time delays, and more. The more forward-looking laboratories are looking at technology solutions for reporting needs that allow them to address cost, quality, and timeliness issues, and also repurpose transcription roles to help with administrative duties that are not currently being filled.
Here is an example of one of those laboratories, Stamford Pathology Group.
Many pathologists and laboratory administrators that we have spoken with share a similar perspective to Dr. Babkowski's. Yet, from time to time I glance at job boards, and I still see laboratories advertising for new transcription positions. When I see this, I can't help but ask, "Why?" Now the phrase, "these aren't the Pathology transcriptionists you're looking for" will surely come to mind. Why do laboratories still choose to look for THESE Pathology transcriptionists, when there are solutions available that are more accurate, more reliable, more rapid, more cost effective, and provide Pathologists with the freedom to control the timing and quality of their reports?
The answer is a simple, but distasteful one. If you are like me, it is one you will never (or can never) forget. The answer is that it is not human nature to step over a "bleeding baby." Yes, I know this is a shocking statement. Visually, it is very hard to take, but that was the point of why it was used when I first heard it.
This phrase was uttered at a business conference I attended a couple of years ago by a man named Gideon Malherbe. He is a business strategist who was giving a presentation on strategic scenario planning. The gist was that we all have our products or way of doing things that we have invested so much time and money into that they become our babies. We get so comfortable with them that we are unable to see that they are about to become obsolete. We spend many wasted hours strategizing how to make them better or to fix them, and we fail to realize that we are putting money into processes that have seen their final days. Worse, we risk missing an opportunity to get involved in the next big thing while our competitors are busy innovating. In his presentation, he challenged us to do just that...step over the "bleeding baby" and look towards solutions that are more applicable to a changing and more demanding future.
Now by no means am I trying to pull a Jedi mind trick on anyone by creating a variation of the now popular meme. The benefits of technology-driven reporting solutions have been on showcase for years. What I am saying is that, as business leaders, we need to constantly evaluate the products we sell and the processes we use. We need to make sure that, before we invest additional resources into them, we explore new and different ways to achieve our goals. In this case, before you place that want ad, think twice. Maybe "these aren't the pathology transcriptionists you're looking for." Instead, perhaps this is the perfect opportunity to explore what technology can do to solve your reporting needs for now and for the future.
"Move along... move along."