I have always loved the saying, "How do you eat an elephant? One bite at a time." I can tell you that in my role as Account Manager at Voicebrook and in my personal life, this philosophy rings true for nearly every milestone I have met, every "elephant" I have eaten, and every new technology I have embraced.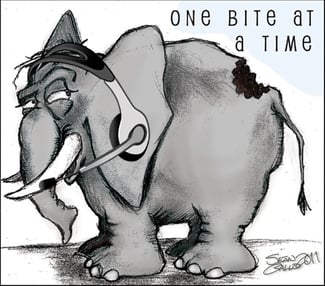 Recently, my mother started texting. You may ask, "Why is this such a big deal?" Well, because she has certain things she just does not do and texting is one of them. You see, it all started when she began carpooling for our kids a few years ago and I insisted that we get her a cell phone. She was resistant. "Why do I need that thing?" "Now I will never have any peace and quiet." Her list of reasons for not needing a cell phone far outweighed her list of reasons for needing one. She was reluctant, but we were insistent and so she agreed.
Guess, what? She used the first one until the flip, flipped right off. Her minutes soared and she had found a new passion in life. Calling everyone she knew in the U.S. under her unlimited minutes plan had opened up her world. She was hooked! Fast forward to several years and several phones later. Until recently Mom would often ask me, "Why don't people call each other anymore?" I would respond, "because they text." She would usually comment back with something about how the world is different and people have changed and so on. So, I am sure you can imagine my utter shock when I received my first text message from her a few days ago. That is why her text is a really big deal. You see, my mother is slowly, one "bite" in her own time, embracing technology.
Although it is assumed that today's "norm" is to embrace new technology with open arms, I find in my personal and professional life that many, even most, are quite reluctant. We see the elephant as being too big, the obstacles too many, and the risk too great. Yet, once we take that first bite, we find that patience and a willingness to try something new can quickly turn even the biggest skeptic in to a believer, a user, and even an advocate.
I am not sure that Mom will be asking for a smart phone anytime soon, but "one bite at a time", she is embracing new technology and finally sees the value in it.
What new technology are you afraid of?
What elephant do you need to start nibbling on?
At Voicebrook, I have seen similar hesitancy when laboratories are considering adoption of a Pathology speech recognition reporting solution. Having watched successful implementation after successful implementation, I also know that adoption is just one more bite out of the technology elephant. Users know how to dictate. Most have already taken bites out of computers, AP Systems, and word processor applications. VoiceOver is a natural progression for them, with the added crutch of a tour guide showing you how to navigate every small bite that is required to use the software successfully.
I encourage you to try something new, schedule a demo, and step out of your comfort zone to see how our VoiceOver product can take you from a skeptic to an elephant-eating believer.
Click below to schedule your demo today.