Welcome to the first in a series of insights on Partnering with Voicebrook.
As I stared at the blank screen that previously occupied this space, I thought about three things.
Themes related to partnering*. In the Old West -- at least in the Old West According to Hollywood -- "Howdy Partner" was a common greeting.
[That gets the word "partner" into a headline, check!]
Beyond a snappy headline, how to transition and keep your attention?
[Perhaps an interesting, relevant visual….]
What kind of references will work for readers of this blog? As a (barely) Baby Boomer, addressing an audience of [I wonder who's reading this?!?] our frames of reference may be partly or fully simpatico….
[Or you might think I'm from Mars.]
---
Without further ado, here is an [interesting, relevant to both of us, I hope] image quilt, for your consideration: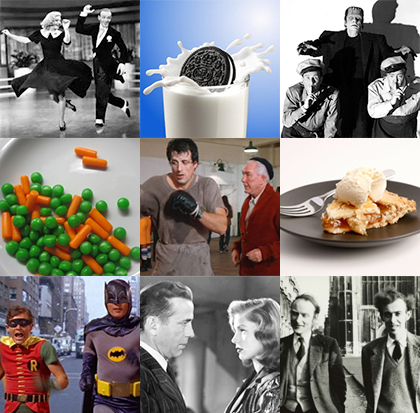 I decided to break the entertainment / snack pattern and include the DNA geniuses in the bottom row just to point out that I didn't spend my entire youth watching TV and stuffing my face.
---
Besides all representing part of my formative years, and cementing the fact that I'm a (just barely) Boomer, what do these all have in common?
In one domain or another, they are all iconic representations of CLASSIC PARTNERSHIPS.
Over the past year at Voicebrook, we have been working on improving our partnering capabilities, largely based on methodologies promoted by the Association of Strategic Alliance Professionals (ASAP). In future blog posts, I will write more on the ASAP organization and the incredible resources and support they provide.
Today's topic is much more narrowly focused: How can we create and nurture a CLASSIC PARTNERSHIP with you?
Since 2006, we have specialized in delivering value-added workflow and services in Pathology, enhancing the available reporting and imaging solutions. We are also expert in spanning multiple solutions used simultaneously, providing enhancements as an external workflow agent that leverage speech recognition, digital dictation / transcription, discrete data entry and input device integration.
When it comes to partnering, Voicebrook has the vision, processes and resources to create a CLASSIC PARTNERSHIP with your organization. We look forward to designing a "win-win-win" scenario that benefits both of our organizations and our mutual customers. To discuss this in more detail – or for feedback on this blog -- please contact me at joseph.desiderio@voicebrook.com.
Thanks for reading… Howdy, Partner!
[Now I have to go figure out which one is Watson, and which one is Crick, in case it comes up on Jeopardy.]