In Part I of this blog post, I discussed my reaction to the CAP Today article, "Hear me now? Another audition for speech recognition," by Kevin B. O'Reilly. In it, I provided additional context regarding the use of VoiceOver at the University of Pittsburgh and Kalispell Regional Medical Centers. In this post, I will provide additional clarity about our implementations at NorthShore University HealthSystem (Evanston, IL) and Chester County Hospital (West Chester, PA) and discuss transcriptionist compensation and a declining pool of qualified transcriptionists for Pathology.
Fact: Laboratories Need to Mitigate a Shrinking and Less-Qualified Transcription Pool
In the article, Kevin quotes Dr. William G. Watkin from NorthShore University HealthSystem. Dr. Watkin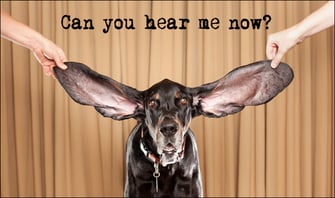 says, "We did struggle a lot with maintaining high-quality transcriptionists. We had a lot of turnover in the transcription pool, and many of the people we were able to attract were not formally trained, professional medical transcriptionists. They were people we often trained on the job for what we needed."
Kevin also quotes Bonnie Bakal, Manager of Support Services in the Department of Pathology at Memorial Hermann Healthcare System. She states, "There is a dwindling workforce, and part of that is age. A lot of people who went into transcription are of retirement age, or close to it."
This is one of those bad news - good news issues for Pathology laboratories. The bad news is that Dr. Watkin is correct. It's getting harder and harder to find good transcriptionists in general. In Pathology specifically, it is even harder than other specialties, because most Pathology laboratories require a qualified transcriptionist who is locally available and who has a deeper understanding of complicated medical terminology. With an aging population, laboratories will see an increase in caseload and dictations. Where is this additional labor going to come from?
The good news is that the technology does exist to mitigate labor issues and provide a higher-quality result than the process it is replacing. It is just a matter of laboratories committing to a different way of doing things. As mentioned in the article, there can be a learning curve, and it does require buy-in from the diagnostic staff, but in most cases we see results similar to NorthShore, where "Within three weeks of implementation, we had zero transcriptionists."
More Context: Transcriptionist Compensation
In the article, Kevin quotes 2012 figures from the Bureau of Labor Statistics, which claim the median annual salary for a transcriptionist to be $34,200. He also quoted Linda Brady, the CEO of the Association for Healthcare Documentation Integrity. She says, "Our membership looks at those figures and says, 'Wow, I wish I was making that.'"
Both of these statements are not in-line with what we hear from our Pathology customers. Linda runs an organization that represents the interests of ALL medical transcriptionists, and the Bureau of Labor Statistics figure factors in all medical transcription, as opposed to Pathology transcription. In addition, salary is not the entire expense that a laboratory takes on when they hire any resource. All in, we find that each Pathology transcriptionist has a loaded cost to the laboratory of approximately $50,000-$55,000 per year. As a result, speech recognition technology is a great tool for mitigating this cost and also for filling in some of the gaps that the labor shortage has created.
Fact: The Learning Curve Can Be a Few Days to a Few Weeks
Shannon Schutz, PA at Dartmouth Hitchcock Medical Center stated, "The learning curve for most of us was really just a few days. It was just learning a different rhythm to your workflow, learning the voice commands and the shortcuts, and learning to navigate the system with your voice. Some people pick it up a lot faster than others. [Voicebrook being on site] really helped us through that additional learning curve with the PAs."
We have found this to be true in most cases. As was mentioned in a previous blog post, "Four Common Pathologist Anxieties About Speech Recognition Software", by one of Voicebrook's Project Managers, Steffani Martino. "During a project go-live, each user will receive individual one-on-one training, with multiple follow-ups to ensure that everyone is comfortable with all aspects of the new software. We often find that many users who anticipated difficulty are proficient by the time that we leave, and if not, we will continue to support them remotely, until they are completely comfortable."
More Context: Chester County Is Successfully Using VoiceOver
Of all of the items in Kevin's story, this particular inclusion struck me the hardest, and is probably the number one reason why I decided to write this blog post. In the article, he references Dr. Jodry's abandonment of the technology in favor of typing. She states, "I don't like the typos you get with [speech recognition]. I really pride myself on having very few errors or typos or things like that in my reports. Most of the typos come from my head and not my fingers. I say the wrong thing. So that was one of the reasons I stopped using it. And if someone walks in your office and you forget to turn it off, you'll have seven sentences of gobbledygook."
The reality is that Chester County is a very successful site and supporter of our solution. Dr. Mehmet Goral, the Medical Director for Chester County, told us that he was also interviewed for the article, but his comments about their success were not included.
While I am not expecting that all feedback would be be positive, Dr. Jodry's experience is not typical across our customer base, and only tells part of the story. As Dr. Jodry mentioned, her work as a Cytopathologist involves more short, formulaic reporting, which is well-suited to keyboard shortcuts or "quick text" templates. If she does struggle composing her thoughts for dictation, or does not need as much narrative freedom, then voice-driven or keyboard-driven shortcuts would be a great solution to typing, while still allowing the department to achieve its transcription-free goals and improved turnaround time.
Lastly, what she references about not turning the microphone off is certainly an issue, and it is one of the major reasons that we created our own foot pedal and custom device configuration settings. The foot pedal can be configured to only hear speech when it is engaged (via "press to talk" or "hold to talk" settings). This would be our recommended configuration for the situation she described. The foot pedal can also be used to move between fields in a template, correcting text, or various other time-saving actions based on the Pathologist's preference.
Overall, we were very pleased to be included in the CAP Today article "Hear me now? Another audition for speech recognition". We believe it presented a very positive view on how speech recognition technology can be used in the laboratory to decrease report turnaround time, improve patient care, and mitigate a declining and expensive transcription pool.
To read more about the dramatic improvements in turnaround time referenced in the article, make sure that you download the Stony Brook Medical Center study below.