Pathology Reporting Experts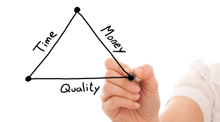 Voicebrook is the leading provider of speech recognition and reporting solutions for Pathology. Voicebrook was founded in 2002 by healthcare and speech recognition industry veterans, and is based in Long Island, New York.
Voicebrook has successfully developed and deployed hundreds of reporting solutions, helping pathology laboratories save time and money, and improve the quality of patient documentation and care. Voicebrook has a deep understanding of Pathology reporting issues, information systems, and user workflow, and has implemented the most successful speech recognition solutions to clients across North America.
Our VoiceOver® software is the most widely used and successful speech recognition solution available in the Pathology market today. It integrates directly with all major AP systems and extends functionality beyond core Dragon Medical solutions to ensure the highest levels of success with speech recognition in a laboratory environment. VoiceOver® also provides the flexibility for users to choose between front-end speech recognition and traditional transcription workflows, providing functionality that meets the needs of all users.
Our track record for success has led to savings and benefits for our clients. Schedule a demo today to see how we can better empower you to save time, money and lives.
---
I wish that all vendors were as competent as Voicebrook.



Dr. Richard Sibley, Director of Surgical Pathology
Stanford University Medical Center